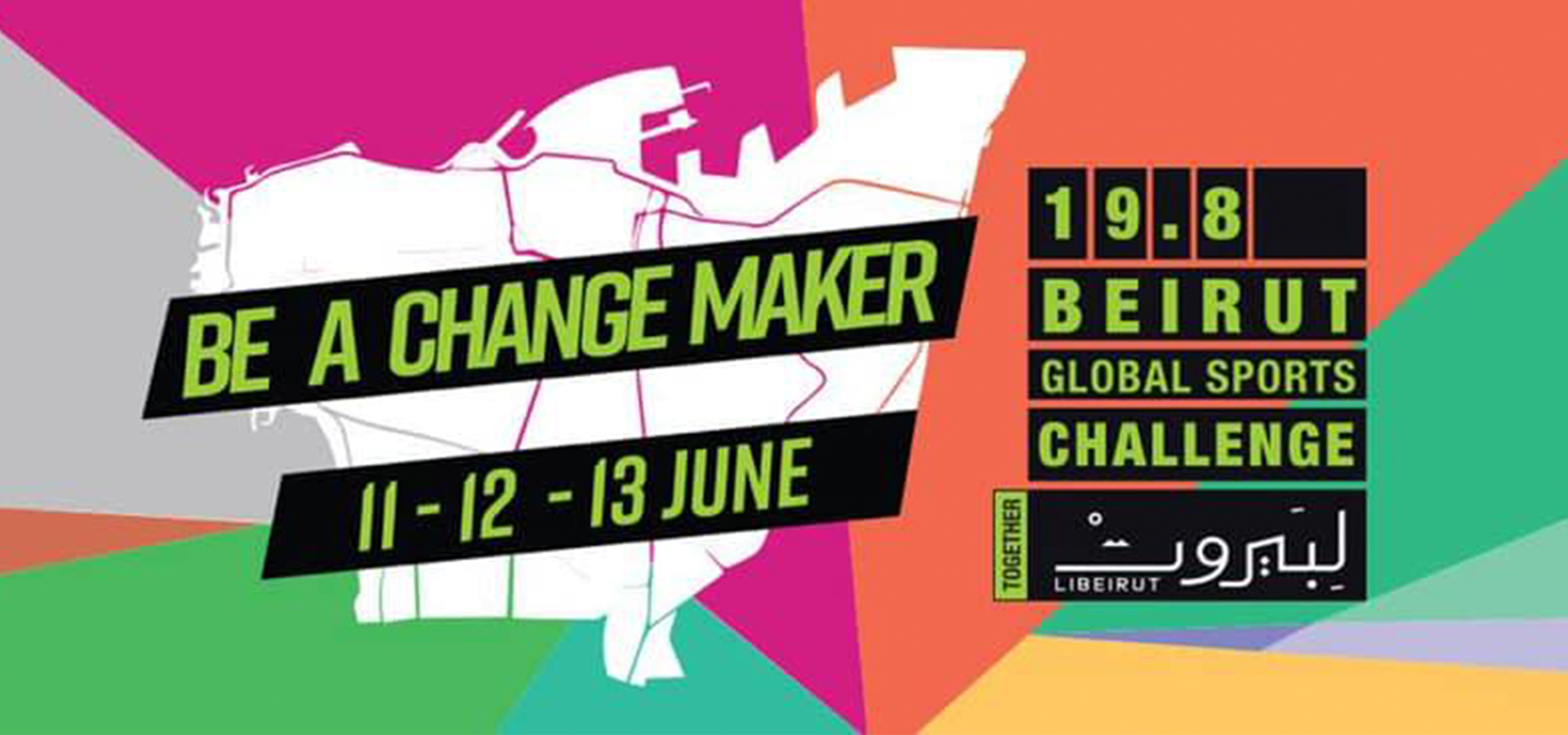 Together LiBeirut – 19.8 Beirut Global Sports Challenge
Together LiBeirut are holding the 19.8 Beirut Global Sports Challenge, on June 11-12-13, to keep the needs of Beirut on top of everyone's mind and to raise funds for its ongoing work. They are inviting all Lebanese and Lebanon lovers around the world to practice the sport of their choice over a minimal target of 19.8 km, lapses, summits, etc., as the area of Beirut is 19.8 km2. Each participant will be their partner in raising awareness of Beirut's needs and funds for Together LiBeirut's projects.
View this post on Instagram
THE 19.8 BEIRUT CHALLENGE
WHAT?
A GLOBAL SPORTS CHALLENGE.
WHERE?
WHEREVER YOU ARE IN THE WORLD.
WHO?
INDIVIDUALS AND TEAMS. ATHLETES OR AMATEURS, ALL FITNESS LEVELS, ABILITIES AND AGE GROUPS.
DO WHAT?
RUN, SWIM, WALK, CLIMB, HIKE, BIKE, DRIVE, DANCE, JUMP OR PRACTICE ANY OTHER SPORT FOR 19.8.
WHY 19.8?
19.8KM2 IS THE AREA OF THE CAPITAL BEIRUT AND THE CHALLENGE'S TARGET.
WHY THE CHALLENGE?
BEIRUT STILL NEEDS US. WE ARE RAISING FUNDS FOR LONG-TERM RECOVERY AND YOU CAN HELP.
WHAT DO I NEED TO DO?
1- PICK YOUR SPORT(S) CHALLENGE.
2- REGISTER HERE.
3- INVITE YOUR FRIENDS AND FAMILY TO JOIN THE CHALLENGE.
4- SPREAD THE WORD ON SOCIAL MEDIA.
5- RAISE FUNDS FROM YOUR NETWORK TO SUPPORT THE WORK OF "TOGETHER LIBEIRUT".
6- ENJOY!
WHERE WILL THE MONEY GO?
ALL DONATIONS WILL HELP TOGETHER LIBEIRUT TO:
1- OFFER FREE MENTAL HEALTH SUPPORT TO CHILDREN, YOUTH AND FAMILIES AT YOUTH CAP COMMUNITY CENTER IN MAR MIKHAEL.
2- PROVIDE LIFE-SAVING DIAGNOSIS, IN-PATIENT CARE, MEDICATIONS, AND SURGERIES, TO PATIENTS WITH CHRONIC DISEASES.
3- CONTRIBUTE TO THE FULL RESTORATION OF 6 HERITAGE BUILDINGS AND A PUBLIC SPACE IN HARD HIT GEMMAYZE.
4- REHABILITATE AND PROVIDE CAPACITY BUILDING TO 25 MSMES (MICRO, SMALL, MEDIUM ENTREPRISES) TO ENSURE THEIR SUSTAINABILITY AND PROTECT JOBS.
+1 347-952-8688
info@togetherlibeirut.org