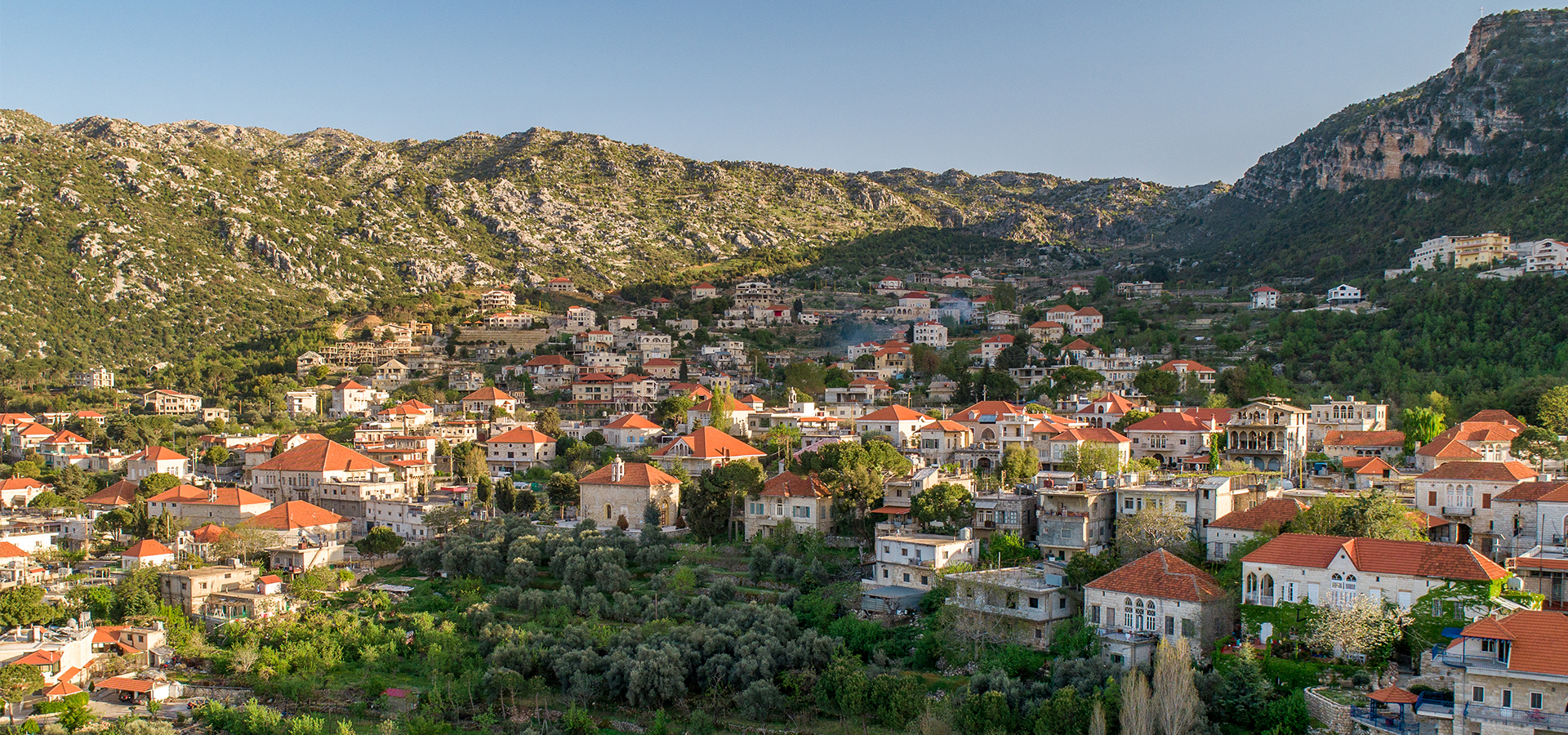 Toureef: A Visionary Startup Uplifting the Rural Economy
Amidst the lively city's fast-paced environment, time stands still at the Reef.
Em Assaad skillfully sews, her needle gently piercing the fabric, while Abou Elias rushes each morning to open his bakery just around the corner, pondering ways to attract more patrons.
Rural artisans thrive, working tirelessly to support their children's education. Despite millions of tourists visiting Lebanon every summer, rare are who might discover Em Assaad's wonderful creations or savor Abou Elias' rich Mankoushe.
However, Toureef is changing that narrative. Founded as a tribute to and in gratitude for the community that nurtured the country, the startup is making a difference.
When Youmna Hammoud, an environmental conservationist with a passion for hiking, was touring Sassine Mazraani, an outdoor enthusiast and businessman, they discovered concealed treasures one could not begin to describe.
As they journeyed past waterfalls, ruins, historic edifices, and cozy eateries, a shared conviction stirred within them, compelling them to give due recognition and exposure to these hidden gems.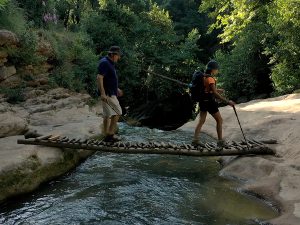 Thus, Toureef was born—a tech-tourism startup leveraging technology to illuminate less-traveled destinations and help foreigners explore Lebanon through a local's eyes.
All their efforts are geared towards fulfilling their long-term vision. Ultimately, Toureef aspires to transform its data into a repository accessible with a single click, aiming to emerge as a leading force in the tourism industry by collaborating with different stakeholders and local guides.
They are bolstering the rural economy by offering a holistic experience through their digital platform, complemented by a rustic physical presence in Gemmayze: Beit Toureef.
Through its platform, Toureef seeks to establish a symbiotic relationship between business owners and tourists, applying what is known as "the circular flow of income."
The concept is simple: Jihad, a local business owner, is preserving his family's legacy of rattan craft. From his home, he works tirelessly to weave rattan baskets and sell them to the locals of his village. Through Toureef's portal, more people are purchasing Jihad's authentic baskets, increasing his income and hopefully enabling him to open a physical shop.
As his business grows, Jihad begins employing members of his own family to assist in his shop. Eventually, job opportunities will also be available to those outside of the family, contributing to the overall economy of the village.
Thus, the cycle of support and collaboration repeats itself, with Toureef being the catalyst and serving as the bridge between individuals seeking to discover unique destinations, and local business owners.
The startup essentially resolves a problem: while the information is largely available online, it often lacks the polish and optimization needed for tourists to make effective use of it. Their data remains up-to-date due to ongoing communication between the Toureef team, and the business owners featured on their website.
User-friendliness is at the core of their platform, making destination browsing more accessible. Toureef's database harbors hidden gems in Lebanon that typically remain undiscoverable without the guidance of a local.
This is where Toureef sets itself apart from the rest. It reaches out to tourists before they even arrive in Lebanon, covering the A to Z of their journey while ensuring an unforgettable stay at their lovely guesthouse.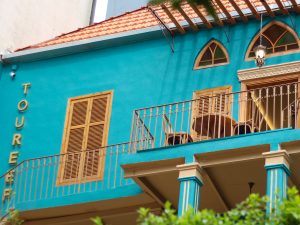 Beit Toureef: Bringing the Reef to the City
Nestled in the heart of Gemmayze, Beit Toureef is a heritage house aiming to reinforce Toureef's vision of preserving the heritage of the Reef, promoting sustainable tourism, and closing a cycle.
The guesthouse preserves the traditional Lebanese house's essence with cherished three arches, hand-carved wooden details, and lovely mosaic patterns.
In the long run, Beit Toureef will feature an interactive map on its Ground Floor, helping people visualize their next destination in Lebanon. The guesthouse will also open a traditional Lebanese restaurant, reviving delightful rural dishes.
But their efforts don't end there; all the ingredients used in the restaurant will be sourced from Toureef's featured businesses and showcased in a charming boutique. This way, they hope to inspire visitors to take a piece of their exceptional experience home with them, further encouraging local support.
All-in-all, Toureef envisions Beit Toureef as a vacation locale akin to a friend's home or a family residence, where guests feel completely at ease and home and where Toureef's end-to-end experience promise can be witnessed.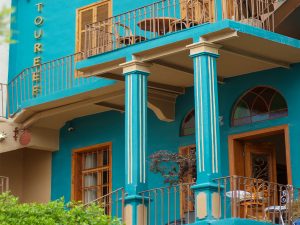 Tourists who choose to stay at Beit Toureef are offered transportation from the airport to Gemmayze. Upon arrival, they're welcomed by a rustic gate at the entrance, opening up to a charming blue building with metal stairs attached to its façade.
Guests spend a few nights in the rural-themed guesthouse, immersing themselves in Lebanon's rich heritage through the traditional architecture, rich library corner, mingling with locals in the common area, and exploring the local neighborhood.
In the mornings, they wake up to a hearty traditional Lebanese breakfast at Beit Toureef's garden rooftop, where the gentle aroma of Manakeesh, the bold flavors of Shanklish, and the refreshing taste of orange blossom water make an entrance.
This is where Toureef works its magic. After breakfast, the family is taken on a trip to Chouf for hiking in the Cedar Reserve, followed by a meal at the renowned Jezzine waterfalls and a stroll in the old Souk of Saida on the way back. They are then escorted back to Beit Toureef to freshen up for the next day's adventures.
The following day, another adventure awaits. A taxi whisks the family away to another location to explore its hidden marvels. This brief explanation highlights how Toureef supports guests from the moment they land to the second they leave the country.
Toureef completes the loop in users' journeys through its digital platform and database, complemented by their physical local Beit Toureef. Combined, this startup is redirecting tourism to rural areas to honor the lifelong efforts of people like Em Assaad and Abou Elias.