Keep a room for adventure – Dr. Rasha hajj
Nature lover and outdoors addict.
Graduated in 2017 from the Lebanese university, Rasha pursued her master's program in esthetic and prosthetic dentistry at saint joseph university, Beirut. Rasha is actually running her own dental clinic and teaching at saint Joseph University, Beirut.
Being a dentist and managing her own clinic with all the tasks and daily life responsibilities that comes along, we asked Rasha how she fell in love with the outdoors and how it became such an important part of her life?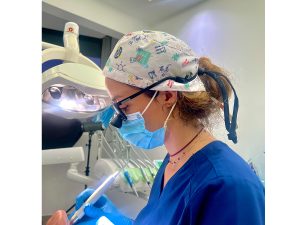 Since my childhood I was always dreaming about being a backpacker, living the wildlife, exploring hidden gems said Rasha, & at the age of 11, I entered the scouts association: SCOUTS ET GUIDES DU LIBAN- Groupe Saint Joseph Antoura and grew up in this environment. There I built a deep/ connection with nature, and I discovered more my love for camping, for hiking and for any outdoor activity.
At the age of 18, and after learning many skills during my scout journey, I took the decision to explore the hidden gems of Lebanon on my feet…
It's a long solo hiking journey in which, till today, at the age of 28, I always learn something and I feel stronger when I'm hiking by myself than at any other point in my life.
There is something about being out there alone that gives me confidence and makes me feel in touch with myself.
I've been solo hiking for years and before my first solo long-distance trek, I had a lot of doubts. Some of them were external, raised by people and others were internal doubts.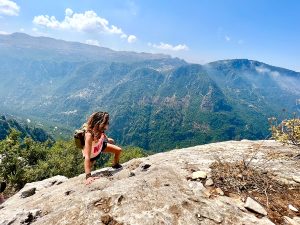 Despite these doubts, I took the risk and jumped into this journey, and not only did I learn that my body was strong, but I also learnt to trust my instincts and I found the answers on the trail. I learnt to gauge situations and make my own decisions in difficult outdoor situations. I knew I could trust my body – it would carry me. I knew I could trust my mind – it wouldn't panic.
And this mindset that I'm still developing while hiking and climbing mountains made me stronger also at work and in my daily life.
Today, and despite her full schedule at work, Rasha still put on her boots every weekend and spend days in the mountains challenging herself to reach higher and higher summits.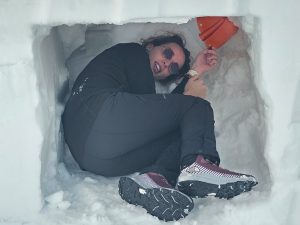 If one day you will be overwhelmed by your daily life routine, will you get tired and stop hiking?
The answer is NO. the love for outdoor activities is in my DNA, replied Rasha.
I doubt that I'm going to get tired of my crazy adventures anytime soon, but even if I did, I'd keep going anyway. I don't expect that hikers enjoy every moment of the hike and I bet there are plenty of times they think about giving up. The best ones, however, find a way to keep going even when it's hard…. So, I will always find a way and keep moving… Keep hiking and feel alive.
For people who love the wildlife, but favor the routine life, Rasha advises you to keep a room for adventure. Life is boring without thrill. You don't need to go too far or push yourself to do things that terrify you. But challenging yourself a bit can be good for you. It helps you feel stronger and more confident, thanks to the achievements you can have and all the novelty that you can find throughout your self-discovery journey.