Chimborazo in Ecuador is the closest mountain to the stars, hello Everest
Mount Everest, located in Nepal and Tibet, is usually said to be the highest mountain on Earth. Reaching 8848m at its summit, Everest is indeed the highest point above global mean sea level—the average level for the ocean surface from which elevations are measured. But the summit of Mt. Everest is not the farthest point from Earth's center.
Earth is not a perfect sphere, but is a bit thicker at the Equator due to the centrifugal force created by the planet's constant rotation. Because of this, the highest point above Earth's center is the peak of Ecuador's Mount Chimborazo, located just 1degree south of the Equator where Earth's bulge is greatest. The summit of Chimborazo is 6263m above sea level. However, due to the Earth's bulge, the summit of Chimborazo is over 2229m farther from the center of the Earth than Everest's peak. That makes Chimborazo the closest point on Earth to the stars.
You may be surprised to learn that Everest is not the tallest mountain on Earth, either. That honor belongs to Mauna Kea, a volcano on the Big Island of Hawaii. Mauna Kea originates deep beneath the Pacific Ocean, and rises more than 10211m from base to peak.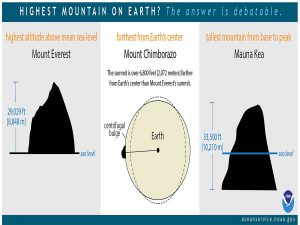 Interesting facts about Chimborazo:
Chimborazo's summit is the farthest point of the earth's surface from the center of the earth. Due to the centrifugal forces of its rotation, the earth's shape deviates from a perfect shpere and has a larger diameter at the equator than the length of its N-S axis.
Chimborazo is a dormant stratovolcano that last erupted around 620 AD, or about 1,400 years ago. At least seven eruptions have occurred over the last 8,000 years. The volcano had a major collapse about 35,000 years ago, with major debris avalanches sweeping down the mountain and damming the Rio Chambo and forming a temporary lake.
Chimborazo has a circumference of 125km and a diameter of 48km. Its crater is 250m deep and has a surface diameter of 470m.
Chimborazo's upper elevations are covered with glaciers. The glaciers have slowly decreased in size over the last fifty years due to global warming and falling ash from the active volcano Tungurahua, which falls on the glaciers, warms in sunlight and melts the snow. The glaciers, providing water for Ecuadorians, are also mined for ice which is sold in markets.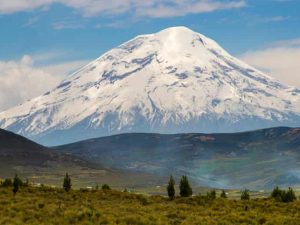 Prepared by: Spyro Klitira
Sources: http://oceanservice.noaa.gov