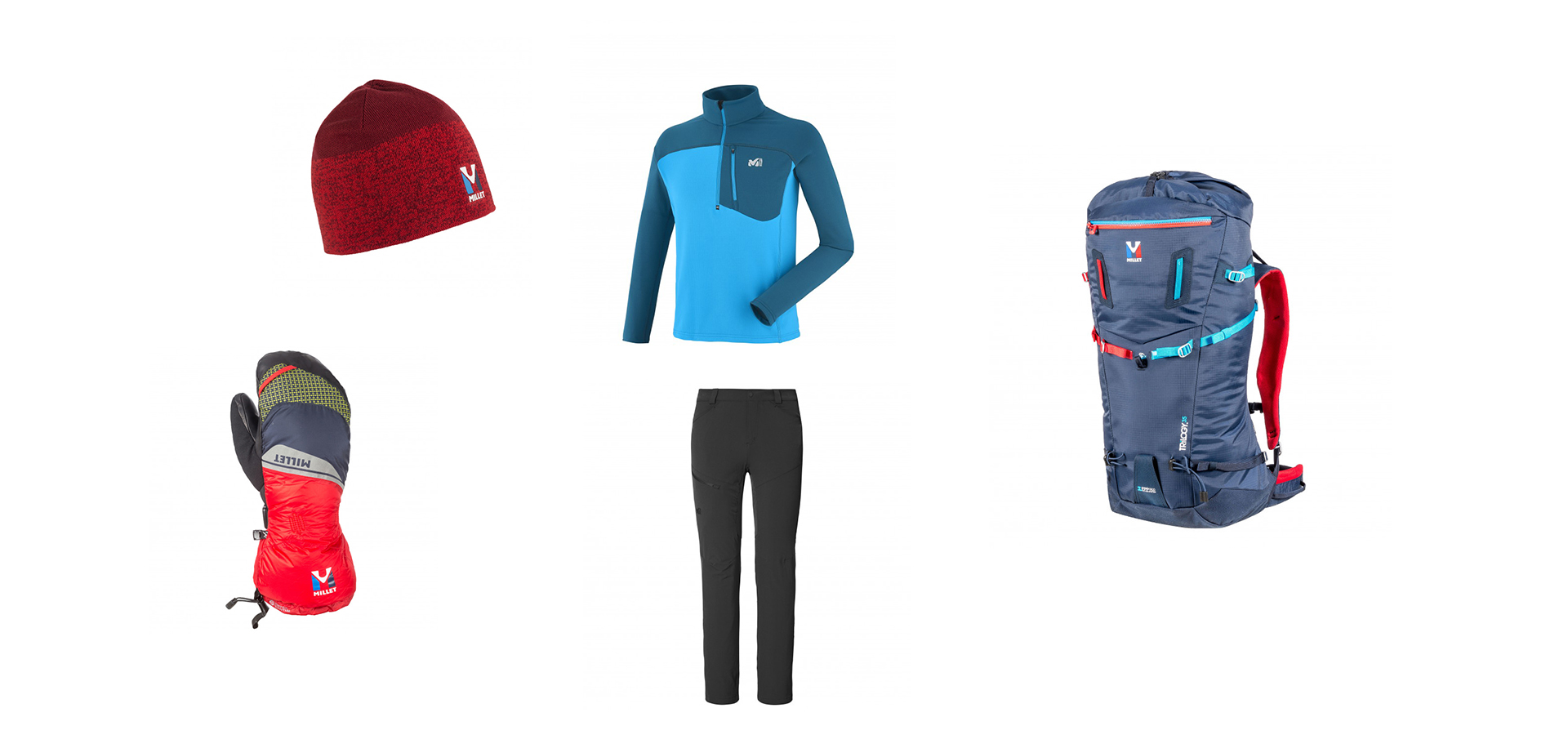 What to wear for mountaineering
Article prepared in collaboration with Maison du Ski
 

MILLET

"MOUNTAIN BY EXPERIENCE"
During your outdoor activity on the mountains you can experience a wide range of terrain and weather conditions. Where you might start out in hot weather, and face a sudden storm during the day. To stay comfortable during the day, you need layers. With layers, you can adjust your comfort level by putting on and removing items as conditions changes. This article will help you understand the basics of layering. As you read on and make decisions about what to wear, here are some things to keep in mind, backed with suggestions from one of the best brands in mountaineering equipment: "MILLET"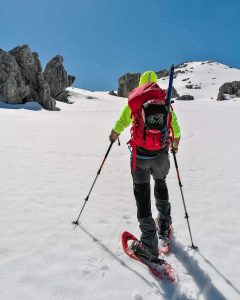 1- Base Layers for Mountaineering:
• Base Layer: This should be the first layer, your next-to-skin clothing items are important because they help keep your skin dry by wicking moisture, so you stay warm and comfortable. Fabrics such as polyester or merino wool are both good choices.
– MILLET's CARLINE™ WOOL BLEND™ 150 is a transfer layer built for mountain sports allowing a versatile use, all year-long.
– MILLET's CARLINE® WOOL BLEND™ 200 is the ideal base layer to use in winter and bitter cold conditions
• Liner gloves: Lightweight liner gloves are nice when it's not too cold but you still want a little warmth and some protection against the snow
-MILLET's WARM STRETCH GL BLACK Warm polar insulation gloves for winter outdoor, multi-use, insulated, flexible and offering great freedom of movement.
• Socks: Quality socks are very important for keeping your feet warm, dry and comfortable on a long climb. Choose either wool or synthetic, never cotton.
2- Mid Layers for Mountaineering
• Fleece jacket: A lightweight fleece jacket is a nice piece to pull on over your thermal when you stop for a break during your hike.
-MILLET's TECNOSTRETCH™ dynamic fleece technology, Lightweight and compressible, it creates very pleasant warmth while maintaining a constant body temperature.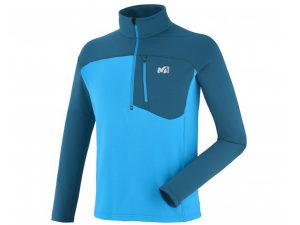 • Soft-shell jacket: The benefits of a soft-shell jacket include better wind and water resistance compared with a fleece.
-MILLET's W3 EXPERT WDS J for pro-active people working in the high mountains, this action jacket is an ergonomic and fluid solution, 100% windproof.
-MILLET's K SHIELD VEST Sleeveless technical vest. Water-repellent windproof membrane and abrasion-resistant fabric in an ergonomic and sporty cut.
• Soft-shell climbing pants: Soft-shell climbing pants are more durable than hiking pants and they do a better job of blocking wind and rain.
-MILLET's TREKKER WINTER PANT a very strong DRYNAMIC® material leaves you free to move when you lengthen the stride, while resisting to rubbing of rock or brush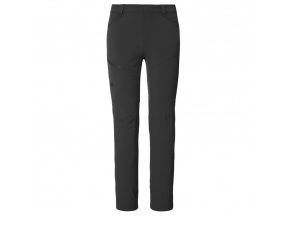 • Insulated jacket: The need of isolation depends on several factors, including the climate and how packable you need to the piece to be. Down provides the most warmth for the least bulk and weight, but it won't insulate well when it's wet.
-MILLET's KAMET DOWN JKT The K Dry ™ feather, the warmest jacket in the Mountaineering range, is ideal in cold weather for a variety of uses, all the more so because ease is there with its comfortable "regular" cut.
• Mid-weight gloves: A pair of mid-weight gloves should provide ample warmth for cold weather while still providing enough dexterity to handle ropes, hold an ice axe and operate zippers.
-MILLET's ICE FALL GTX GLOVE an ergonomic and waterproof-breathable rampart that allows great mobility in extreme practice.
• Winter hat: Bring a low-profile winter hat that will fit underneath your climbing helmet.
-MILLET's TRILOGY WOOL BEANIE simplicity and efficiency, it takes up little space in the pocket for guaranteed heat supply in the event of a startling cold.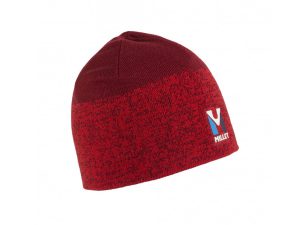 3- Outer Layers for Mountaineering:
• Waterproof jacket: Look for a straightforward waterproof/breathable shell jacket that keeps you reliably dry.
-MILLET's K PRO GTX JKT technical protection jacket for mountaineering in Gore-Tex® Pro. Breathability, flexibility and high abrasion resistance. Durable weather protection for alpine performance.
• Waterproof pants: Lightweight waterproof shell pants should have full-length side zippers that will allow you to get the pants on with your boots and crampons on.
-MILLET's K PRO GTX PANT full openings, harness compatibility. Braving the difficult conditions all year round, these mountaineering pants are a great protection against bad weather on the high peaks.
• Insulated mittens: A warm pair of insulated mittens are ideal for when you're high on the mountain in really cold weather.
-MILLET's MXP TRILOGY DOWN MITTEN for high-altitude expeditions in extreme cold.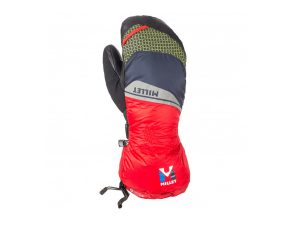 4-Shoes for mountaineering:
• Normal hiking boots: They are used for normal hiking day, could be waterproof or not, depends on the membrane, and usually they are totally elastic and flexible.
• All-round four season boots: These are designed for long days and a small amount of winter hill walking, they will have a stiffened midsole and often feature reinforced uppers.
• Boots for long days in snowy conditions: The midsole and the upper will be stiffened on these boots whilst maintaining a small amount of flex. This allows comfortable walking even if not using crampons. As a general rule, the reinforced upper will add more warmth to the boot than you may find in all-round season boots.
• Technical mountaineering boots: With a fully rigid construction, they are designed with technical mountaineering and mixed/ice climbing in mind. There are a wide range of designs from lightweight, technical, climbing boots to double layer, plastic, high-altitude versions and can be paired with the full range of crampons.
5- Bags for mountaineering:
Even if your trips aren't quite up to major expedition standard, you can be assured "MILLET" pack range has a design that's right for you. From day packs, hiking packs and travel packs, to duffle bags, luggage, hydration packs and storage, "MILLET" put quality, functionality and comfort into each of their designs.
-MILLET's TRILOGY 35 With an Alpine profile whose narrow volume is suitable for traveling in the mountains, it is suitable for a long day of mountaineering or several days of excursion.