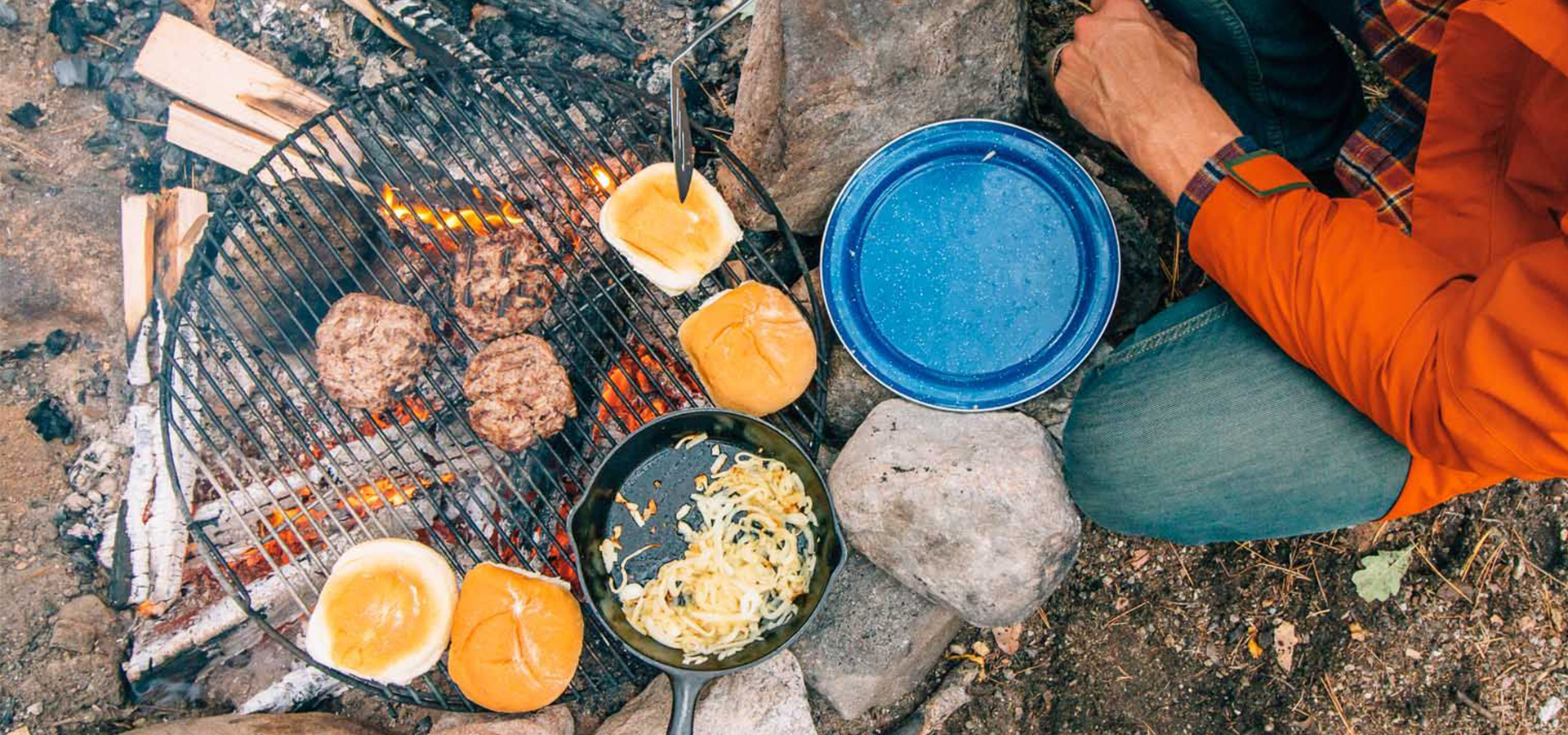 7 Easy Camping Recipes for Your Next Trip This Summer
Author: Mario Fares
Summer is here, and so is one of the most adventurous times of the entire year: camping season. There are plenty of things to do and items to pack to ensure your trip goes according to plan, and we're here to make that preparation quite a bit easier with these campfire recipes. This list features a variety of dishes, from veggies, meat, chicken and even sweet recipes.
1- Vegetable Campfire Frittata.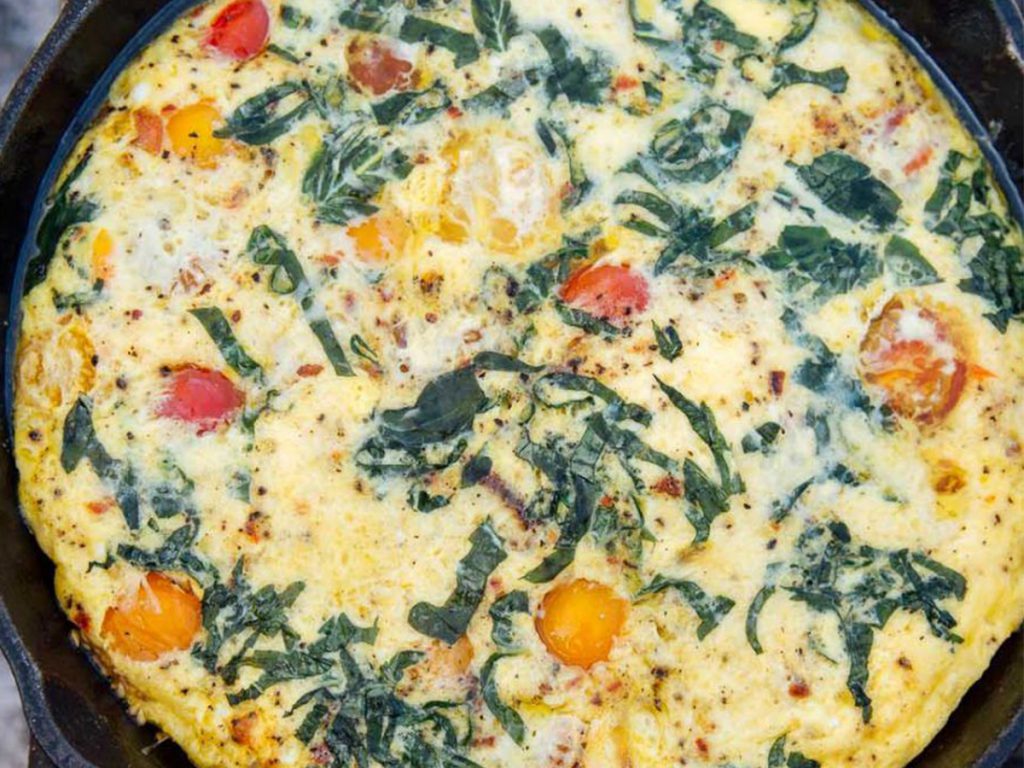 Ingredients:
6 eggs
1 small onion
1/2 small zucchini
handful cherry tomatoes
1/2 teaspoon salt
1 tablespoon olive oil
2 tablespoons grated cheese, parmesan, cheddar, or gruyere would work.
Instructions:
On your campfire grate or camp stove, heat oil over medium heat. Once the oil is hot, add the onion, zucchini, and tomatoes and saute until the vegetables become tender and brownish, for about 10 minutes.
In a bowl, whisk the eggs and salt together until the yolks and whites are completely blended.
Pour the eggs evenly over the vegetables. Sprinkle the grated cheese on top. Cover the skillet with a lid or aluminum foil. If cooking over a campfire and using a cast iron lid, you can move some coals to the top of the lid to help the frittata cook more evenly.
Cook over medium heat until the eggs have set in the middle. This can take anywhere from 10-20 minutes.
Once the frittata has cooked through, cut into slices, serve & enjoy!
2- Foil wrapped baked sweet potatoes and chili.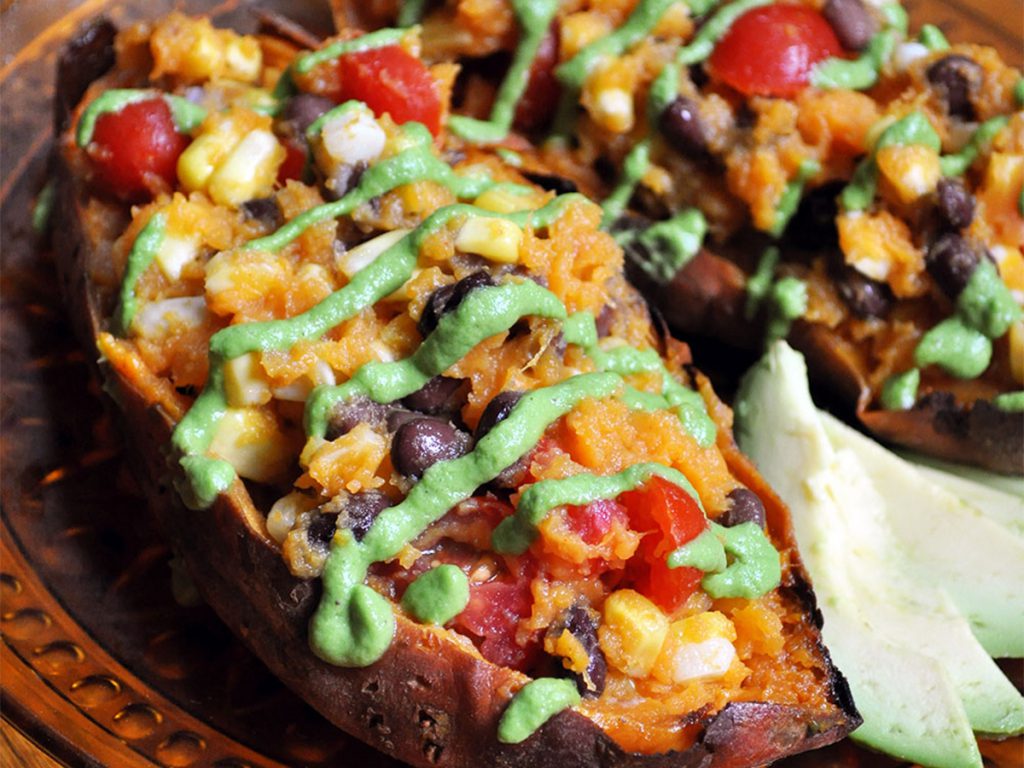 Ingredients:
4 medium sweet potatoes
1 onion, diced
1 tablespoon olive oil
500 grams canned kidney beans, drained
200 grams tomato paste
½ can beer
1 tablespoon chili powder
½ tablespoon cumin
½ teaspoon salt
Other optional toppings: , Green onions, cheese, avocado, etc.
Instructions:
Wrap each of the sweet potatoes in heavy duty foil and nestle them into the embers of your campfire. Turn them frequently to ensure they cook evenly.
While the potatoes are cooking, prepare the chili. Over medium heat, warm the oil in a pot. Once hot, add ¾ of the diced onions (reserve the rest for topping) and sauté for a few minutes until they start to soften. Add the beans, tomato paste, beer, and spices. Stir well to combine. Simmer for 15-20 minutes.
Once the potatoes are soft and cooked through (about 30 minutes total, give or take a bit depending on their size), retrieve from the fire. Carefully unwrap the foil. Use a knife to cut a slit in the potato, then top with the chili, onions, and anything else you have on hand. Enjoy!
3- Campfire Beef Stew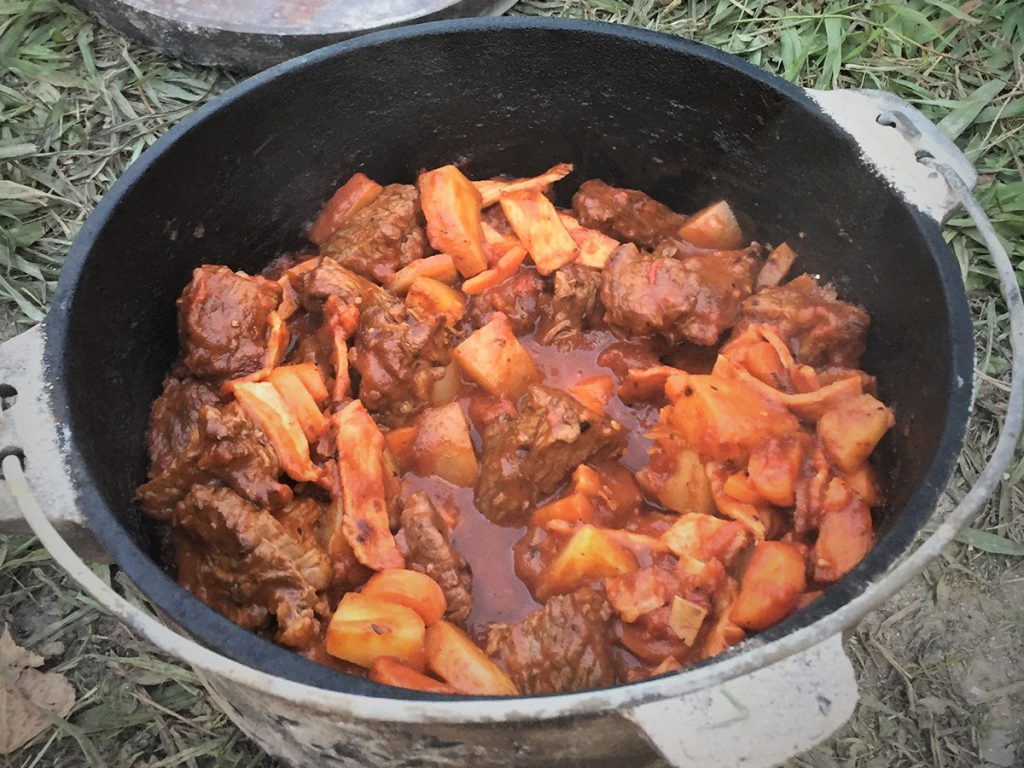 Ingredients:
1 tablespoon oil
1 kg beef stew meat, cut into chunks
1 onion, cut into chunks
3 cloves minced garlic
salt and pepper, to taste
3 tablespoons tomato paste
2 tablespoons all-purpose flour
300 ml beef broth
water, as needed
6 small potatoes, cut into chunks
3 carrots, cut into chunks
Instructions:
Heat the oil. Add the beef and cook until brown on all sides, 10 to 15 minutes.
Add the onions and garlic and cook until the onions begin to soften, about 5 minutes. Season well with salt and pepper and stir in the tomato paste, to coat.
Sprinkle the flour over the beef mixture and toss to coat, making sure the flour is well absorbed. Slowly stir in the beef broth. Add enough water so the liquid level comes about 1 inch above the meat.
Cover and cook for about 1 hour, until the beef is almost tender.
Stir in the potatoes and carrots and continue to cook until tender, about 20 minutes. Season to taste with additional salt and pepper before serving. Enjoy!
4- Camp Beef Fajitas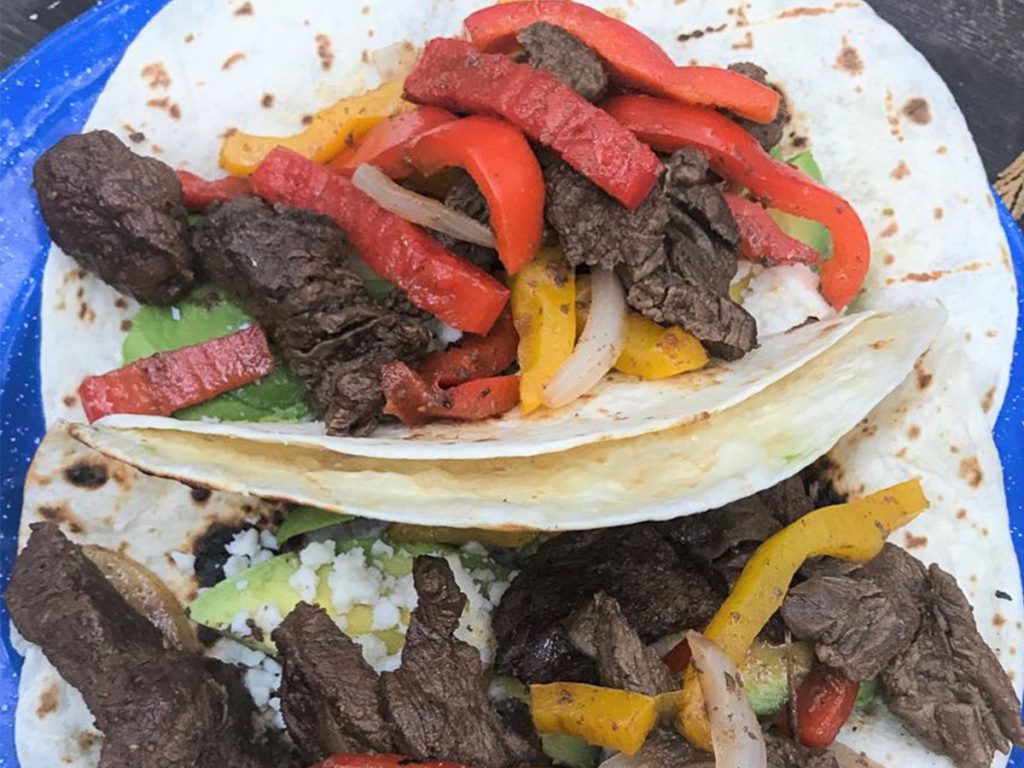 Ingredients:
500 grams steak, sliced
1 tablespoon taco seasoning
1 red bell pepper, sliced
1 yellow bell pepper, sliced
1/2 red onion, sliced
4 tortillas
avocado, cotija cheese, and hot sauce, for serving
Instructions:
Slice the steak, then sprinkle with the taco seasoning. Vacuum seal and freeze.
Slice the veggies.
Heat a pan over medium-high heat on a camp stove.
Add the meat and cook until done. Add the veggies and continue to cook.
Place the meat and veggies on the tortillas and top with the avocado, cheese, and hot sauce. Enjoy!
5- Chicken & Spring Vegetable Skewers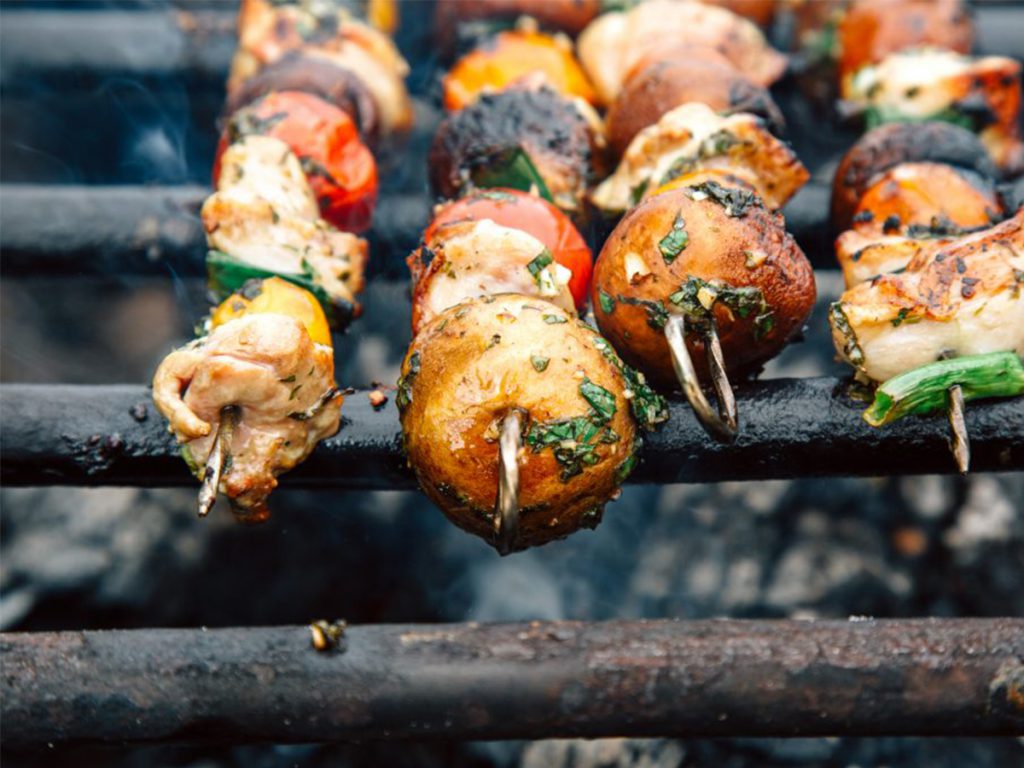 Ingredients:
¼ cup olive oil
¼ cup chopped basil
¼ cup chopped parsley
2 cloves garlic, minced
1 lemon, juiced
1 teaspoon salt
500 grams chicken (boneless, skinless thighs work best), cut into 1 inch pieces
200 grams whole mushrooms
200 grams cherry tomatoes
2-3 green onions.
Instructions:
Combine the ingredients for the marinade in a large bowl or zip lock bag. Add the chicken pieces and thoroughly coat. Cover the bowl or seal the bag and marinate for at least an hour. This step can be done at home ahead of time–just put the sealed bag in your cooler.
Fire up your grill or get your campfire going. You'll be cooking the kebabs over medium-high to high heat.
Build the kebabs by threading the chicken and vegetables onto your skewers, alternating ingredients
Grill the kebabs over medium-high to high heat, rotating them occasionally so they cook evenly until the chicken is cooked through–about 10 minutes total.
Remove from the grill and enjoy!
6- Chicken Quesadillas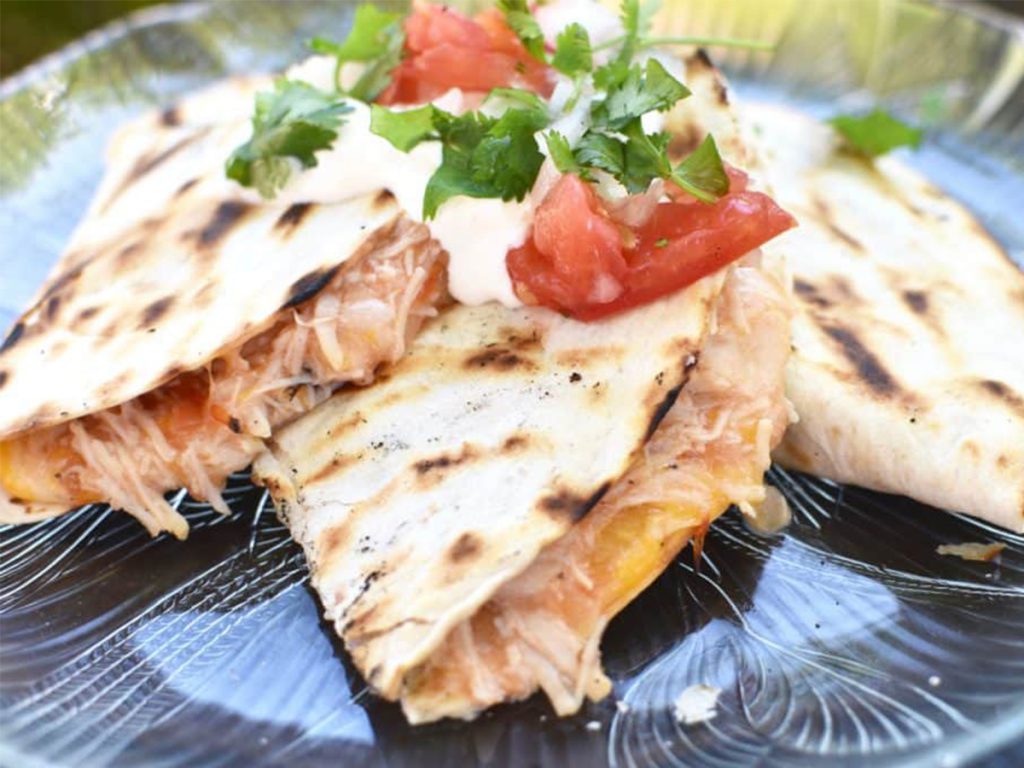 Ingredients:
1 tbsp. extra-virgin olive oil
2 bell peppers, thinly sliced
1/2 onion, thinly sliced
 salt
Freshly ground black pepper
500 grams boneless skinless chicken breasts, sliced into strips
1/2 tsp. chili powder
1/2 tsp. ground cumin
1/2 tsp. dried oregano
4 medium flour tortillas
2 cups shredded cheddar
1 avocado, sliced
1 tbsp. vegetable oil
2 green onions, thinly sliced
Sour cream, for serving
Instructions:
In a large skillet over medium-high heat, heat olive oil. Add peppers, onions and season with salt and pepper. Cook until soft, 5 minutes. Transfer to a plate.
Heat remaining tablespoon vegetable oil over medium-high heat. Season chicken with spices, salt, and pepper and cook, stirring occasionally, until golden and cooked through, 8 minutes. Transfer to a plate.
Add 1 flour tortilla to skillet and top half of the tortilla with a heavy sprinkling of cheese, cooked chicken mixture, pepper-onion mixture, a few slices of avocado, and green onions. Fold the other half of the tortilla over and cook, flipping once, until golden, 3 minutes per side. Repeat to make 4 quesadillas.
Slice into wedges and serve with sour cream. Enjoy!
7-  Blueberry Banana Pancakes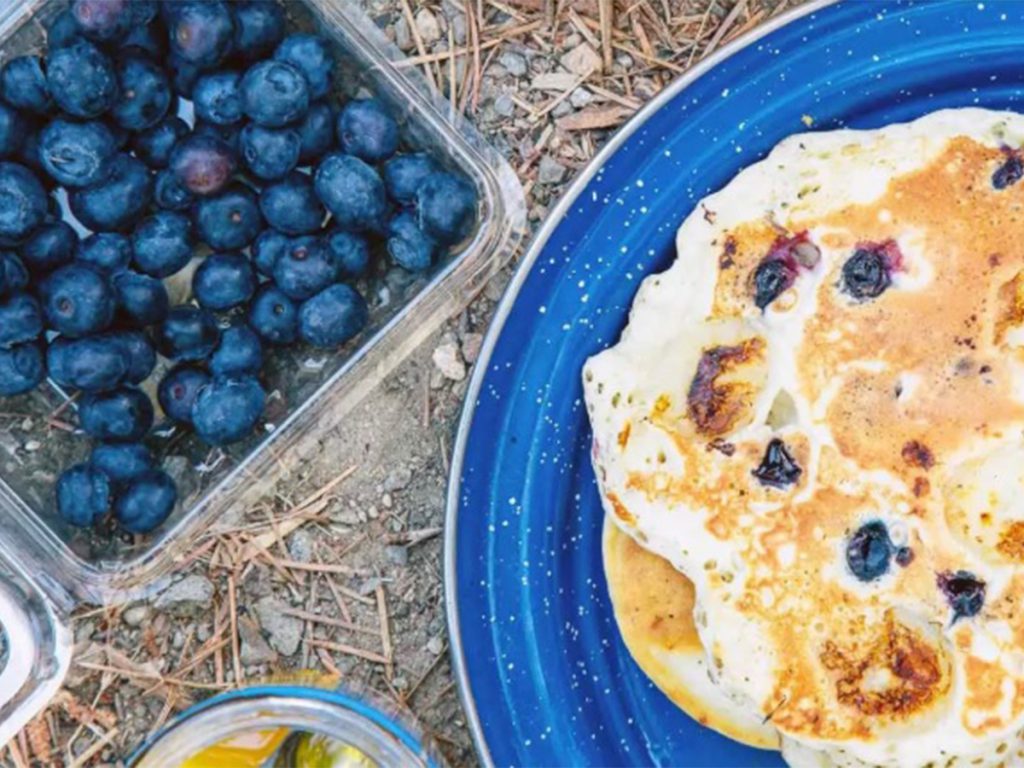 Ingredients:
1 cup flour
⅓ cup powdered milk + 1 cup water, or 1 cup milk
2 tablespoons sugar
1 teaspoon baking powder
¼ teaspoon salt
1 egg
1 banana, sliced into 1/4″ inch pieces
1/2 cup blueberries
6 teaspoons ghee, or butter
maple syrup, jam, butter or creamed honey
Instructions:
Combine the flour, powdered milk, baking powder, and salt in a bowl (this can be done at home ahead of time and stored in a resealable bag or container). Add the water and egg to the dry ingredients. Using a fork, whisk the ingredients to combine, making sure to not over mix (some small lumps in the batter are OK),
Heat a skillet over your campfire or camp stove over medium low heat. Add a teaspoon of butter to the skillet and swirl to coat the pan. Pour ⅓ cup of the pancake batter into the center of the skillet and scatter some of the banana slices and blueberries on top. Cook for a few minutes until the top begins to bubble and the sides are set (about 2-3 minutes). Using a spatula, flip the pancake and cook the other side until golden.
Repeat with the rest of the batter, adding 1 teaspoon of butter into the pan for each pancake as needed.
To serve, stack the pancakes and top with maple syrup, jam, butter, or honey. Enjoy!